With a population of 1.2 billion people, India represents the largest democracy in the world, and one of the biggest emerging markets.
Despite the short-term decreasing growth rates that India and the other BRIC countries (Brazil-Russia-China) experienced in 2011-2012, India's medium-term growth outlook is positive due to a young population, healthy savings and investment rates, and increasing integration into the global economy.1 India's economy grew 7-9% annually between 2000 and 2009, reaching 10.1% GDP growth in 2010. However, in 2011, the country's GDP growth rate has slowed to a still-enviable 6.8%. The relative slowdown was due to little progress on economic reforms and persistently high inflation and interest rates, which decreased the value of the Indian rupee. India forecasts the economy will expand 5.7%-5.9% this fiscal year.2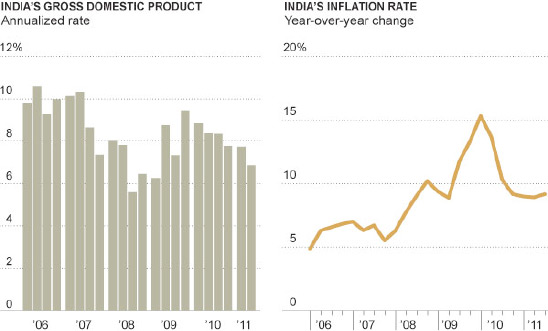 In January 2012, the government of India approved 100% foreign direct investments (FDI) in single brand retail. This creates the opportunity for international retail chains such as Wal-Mart and Carrefour to enter the Indian market autonomously and without a local joint venture partner. Last year, Wal-Mart entered the Indian market in a JV with Bharti Enterprises Ltd, creating Bharti Wal-Mart Pvt. Ltd., which operates 20 retail stores in India.
FDI in retail chains will transform the Indian food and beverage market, which has already seen significant changes due to a strong increase in urban middle class consumers who are seeking new imported products. Currently more than 350 million Indians live in urban areas. These demographic changes lead to more focus on convenience and healthy foods. Among the urban population there are an increasing number of nuclear families and working women; this represents a shift from the traditional large extended families where women were responsible for cooking meals and buying groceries.
In 2011, Indian food retail sales were estimated to be US$270 billion, 60% of total retail sales (food and non-food). Per capita annual expenditures on food is approximately US$225, which represents a very high percentage considering that an estimated 800 million people live in rural areas and do not have access to retail stores.3
The Indian food retail industry has traditionally been defined as "unorganized" because of the severe segmentation of this category. The retail sector is dominated by kirana stores (small, usually family-owned shops which sell groceries and other sundries). Kirana stores will be the most affected by the new FDI in retail, even if their convenient locations (both urban and rural), lower real estate costs, and other services will help them remain competitive. For this reason, U.S. food and beverage brands seeking to export to India should not disregard this traditional "unorganized" sales channel.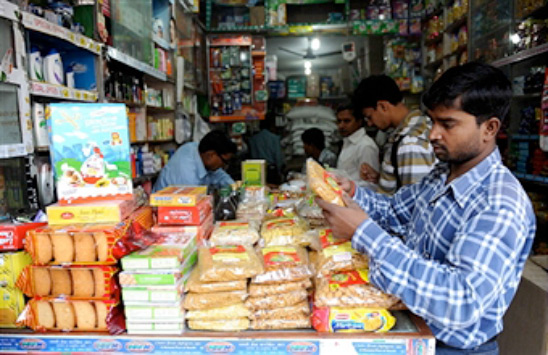 The foodservice sector is also expanding in India, and estimated to be worth US$13.77 billion. According to a Franchise India report released at the Indian Restaurant Congress this year, the foodservice channel will continue to have a compound annual growth rate of 17% for the foreseeable future. The foodservice industry is expected to reach US$25.16 billion by 2015.4 India is fast becoming an important investment destination for U.S. foodservice chain companies who have recently entered the country, such as Starbucks and Dunkin' Donuts, as well as quick service restaurant (QSR) brands that want to stabilize their presence there, such as McDonald's and Domino's.

India has been loosening its import restrictions and opening its market to food imports for the past 10 years. Tariffs are still high and import requirements very strict on several products. In 2011, American exports of processed food to India amounted to US$177.7 million. However, as the Indian society changes and the country experiences continual robust economic growth, India is increasingly becoming a very important market for US food and beverage products. As the middle class grows and experiences greater exposure to international cuisine, their demand for and ability to purchase imported products increases as well. Consumer-ready food products such as apples, grapes and fruit juices (tariff rates of 50%, 30%, and 30%, respectively) have high potential in the Indian market. Snack foods are also becoming a hot item as more of the population looks for on-the-go food items. Almonds and pistachios (tariff rates of 10%) are popular imported nuts while traditional items such as potato chips and cookies continue to be in strong demand. Other items such as chocolates, pastas, sauces and gourmet cheeses are also growing in favor by the 300 million Indians that compose the middle class.5
India's total food market is expected to reach US$330 billion in 2013 and nearly triple to US$900 billion by 2020. Processed foods currently make up just a fraction of the total food market at US$40 billion; however, 2020 projections show processed foods growing to one-third of the total food market: US$300 billion.6 At this rate, India is on course to be the 5th largest consumer food market in the world by 2025, providing a compelling reason for US food and beverage exporters to begin preparing for their market entry strategies.
Peter M. Guyer and Giulia Balzola
Athena Marketing International (AMI) is an export marketing, business development, and consulting firm serving U.S. food, beverage & consumer products manufacturers.
athenaintl.com
Tel. +1 (206) 749-9255
info@athenaintl.com
---
1 CME Group, BRIC Update, (2012)
2 Wall Street Journal, December 18, 2012
3 USDA Foreign Agricultural Service GAIN Report, India 2012
4 Indian Ministry of Processing Food Industry (http://mofpi.nic.in)
5 Food Export Northeast
6 India Brand Equity Foundation 2010; Fine Food India 2012; McKinsey Report : The Bird of Gold 2007