Why AMI
AMI makes launching your products in global markets simple and easy. You will have access to savvy business professionals who have had experience in international food, beverage, nutrition and consumer markets.


Download AMI Company Profile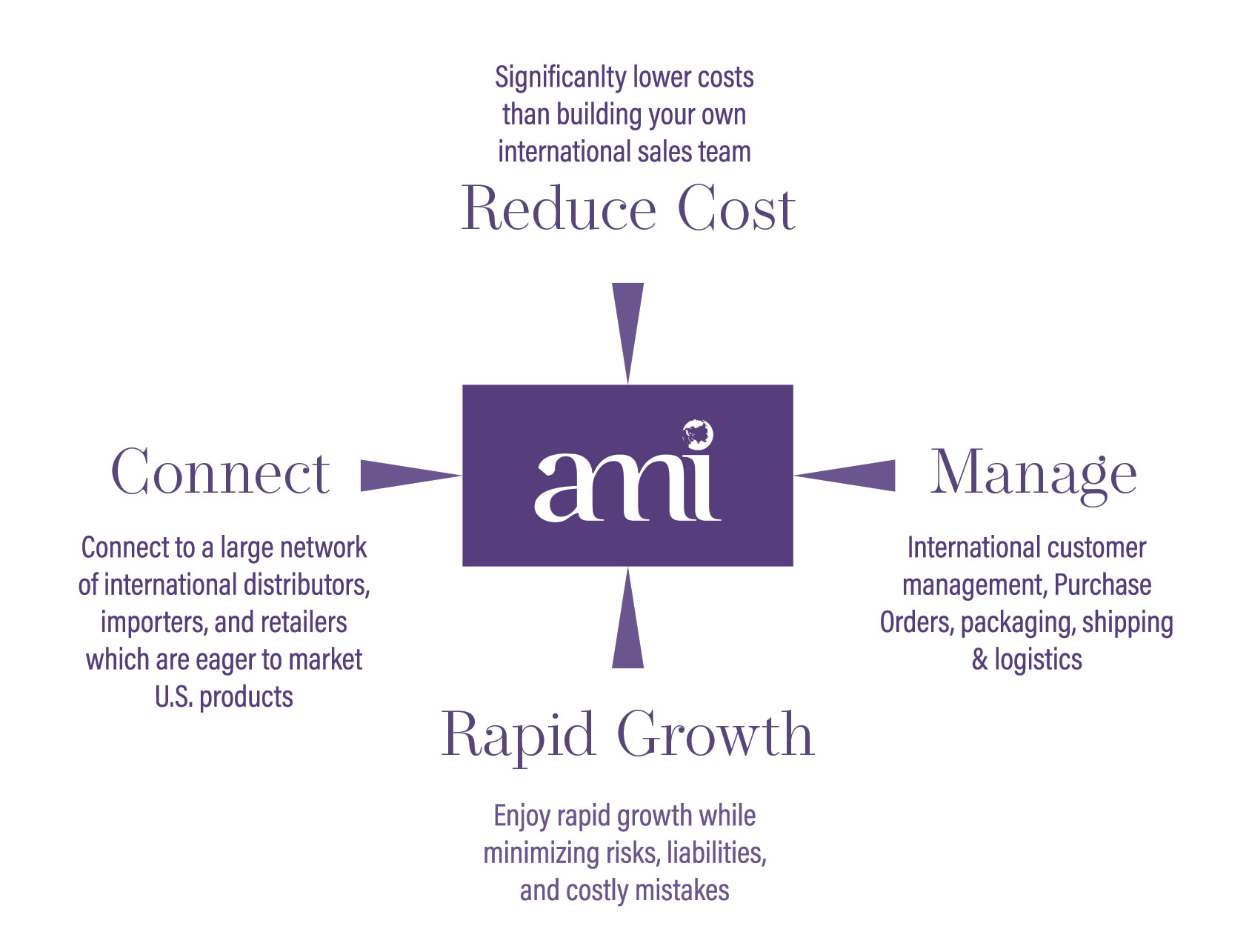 Hiring Internal Employees $$$$
Outsourcing International
Sales $ + =
High fixed salaries
Variable sales commission
Fixed costs (health insurance, 401K)
No fixed costs (health insurance, 401K)
Recruiting time & expenses
No recruiting time & expenses
Limited global network
Strong established worldwide network of buyers/databases
Limited international knowledge
Diverse international expertise and foreign language ability
Deep category knowledge in the U.S.
Deep category knowledge in global export markets
AMI Specialty Export Practices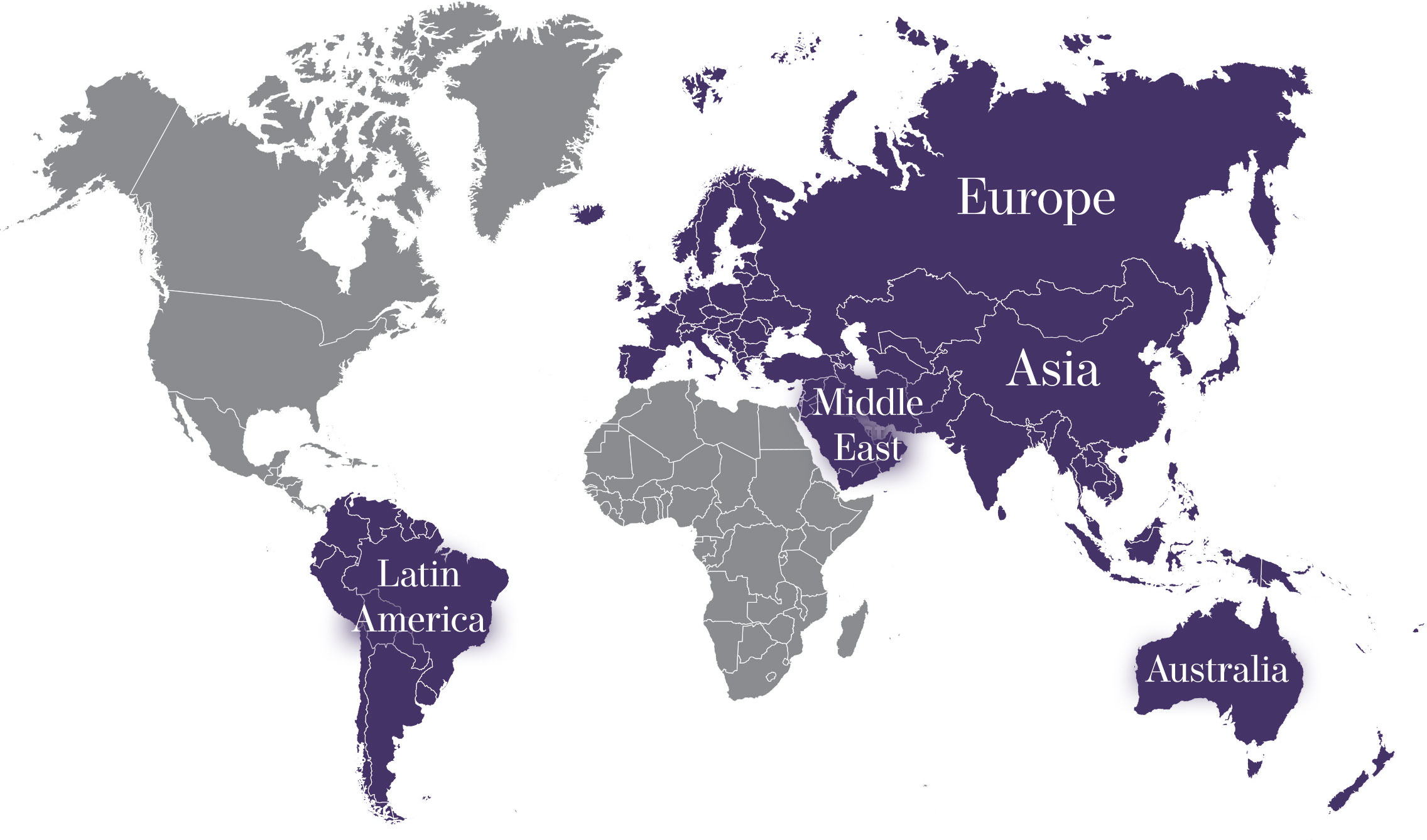 Please hover over each region to view AMI's Specialty Practices
Purpose
To provide our customers with an exceptional ROI and exceed their international business goals.
Vision
"To be THE most sought after leader for North American food, beverage and nutritional supplements manufacturers seeking to increase global sales and brand exposure, and be the international business employer of choice."
Competitive Advantage
AMI establishes long-term sales partnerships between their North American food, beverage, and nutritional supplements customers, as well as leading distribution partners better than any other company.
AMI Brand Story
Peter Guyer, Founder & President of Athena Marketing International (AMI), worked for 12 years at Nestle S.A. as an expatriate executive based in Vevey, Switzerland. He worked in four different countries, and in a wide variety of food and beverage product categories. These cross-border, multi-cultural experiences helped him to understand the subtle nuances of global trading, exports, marketing in foreign countries with unique labels and foreign languages, and the overall requirements for a company to sell its products on the global stage.
When he returned to the U.S. in 2004, Peter noticed that there had been many changes in the U.S. food and beverage market, especially with consumer demographics and eating preferences. Consumers were more health-conscious, technologically savvy, and open to experimenting with ethnic taste profiles. These trends had provided the foundation on which U.S. food and beverage companies launched many innovative and creative products. Many of these products Peter felt would be in high demand in several foreign markets. Peter inquired if these unique U.S. brands were available outside North America. Upon further research, Peter confirmed that most emerging U.S. food companies feared selling internationally due to the inherent complexities as well as their lack of expertise and resources to develop their brands globally.
Soon Peter began receiving inquiries from U.S. food and beverage companies seeking for him to help expand their business outside of North America. He researched the market and found there were no other companies performing a similar service in the U.S. with deep expertise in the global food and beverage markets. This was the inception of AMI.
Since 2004, AMI has assisted over 100 Food, Beverage, Nutrition and Consumer Goods customers in taking their brands to new foreign markets. Peter and his team have also developed a pool of nearly 20,000 international buyers in 130 countries, which provides wide exposure to North American manufacturers seeking to establish a global brand presence.
AMI fees and strategies are customized to meet the needs of our customers.