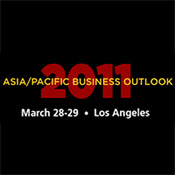 Peter Guyer, President of AMI, is attending the Asia Pacific Business Outlook Conference in Los Angeles, CA. The conference is attended by leading global business executives, politicians, economists and academics. The focus of the Conference is the Asia-Pacific region and it's future. Gary Locke, U.S. Commerce Secretary, is today's keynote speaker.

http://www.apboconference.com/
AMI is at the center of Asia's leading issues, challenges and opportunities. By being aware of the region's potential and establishing relationships with key players in the region, AMI is better able to serve its clients.