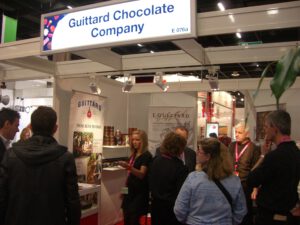 (COLOGNE, GERMANY) – 2010 marked the 40th year for the biggest and most important confectionery, sweets and biscuits trade show in the world – ISM is held every year in Cologne, Germany and spans 4 full days (www.ism-cologne.com). This year the fair housed over 1,600 exhibitors from all over the world and attracted more than 33,000 visitors from predominantly Europe, Asia, the Middle East and Australia.
AMI exhibited current client, Guittard Chocolate Company, and experienced great success with both the retail and industrial product lines. Guittard's main focus is industrial baking ingredients including: chocolate chips, wafers, blocks, powders, flavored coatings, and more. Ideal for companies that manufacture chocolates, bakeries, hotels, restaurants and confectioneries, Guittard products impressed foreign visitors and skeptics alike.
Exhibiting in a market where gourmet chocolate is in abundance and chocolate brands have a strong history and committed buyers was not an easy task. AMI had to prove to that Guittard is not a cliché nor fad, and is actually a very high quality, delicious, and competitive product for European chocolate makers seeking to purchase industrial chocolate..
Exciting opportunities lie ahead for Guittard. International buyers from the wholesale and retail confectionery trade, grocery chains and their regional branches, confectionery specialist outlets, cafes, confectioners, bakery operations, and convenience and department stores all showed great enthusiasm and interest in the super-premium American chocolate brand. 2010 should be a fruitful year for Guittard Chocolate Company as it enters new international markets and begins building a global brand presence.
AMI and their clients know that international visitors to trade shows such as ISM notice new exhibitors and note whether or not they return to exhibit the following year. Returning participation builds credibility and trust, and as trust is the basis of most human relationships, both business and personal, companies that are consistent with show participation tend to be more successful in their efforts to sell globally. Let's face it; no one appreciates a "one hit wonder."