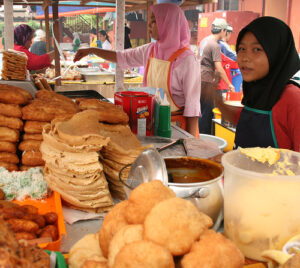 Malaysia is often overlooked by exporters for the bigger markets in Asia. Yet despite its small population, Malaysia has a surprisingly robust economy with a strong consumer base. The global economic crisis has meant that many Malaysian companies have re-evaluated their business models, focusing on domestic consumption rather than exporting.
New trends are developing all the time and one area in particular that holds promise is the Ramadan bazaar. The Malaysia government has been encouraging local traders to set up Ramadan bazaars with great success. Malaysian consumers find it a great way to break their fast, get halal cooked foods, drinks and festive goodies.
The Ramadan bazaars are becoming more of a fixture throughout Malaysia, with the number of stalls increasing, the quality and range of products growing and local governments are even educating stall holders on hygiene and providing free seminars on good business practices. The bazaars operate from late afternoon to late evening and are the talk of Malaysian consumers seeking special delicacies.