How do North American Food, Beverage & Nutrition brands access and sell into global distribution sales channels? What are the largest channel-specific volume opportunities? What are the easiest and quickest channels to enter?
The answers to these questions are, obviously, different for each category, brand and stage of development of the exporter.
There are three primary distribution sales channels available to U.S. and Canadian exporters:
-Direct to off-line Retail
-Cross-border E-Commerce-Importers
-Distributors/Specialty Wholesalers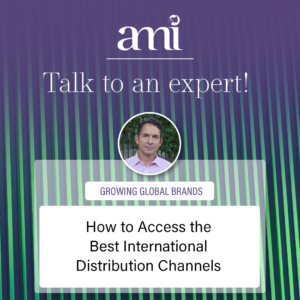 AMI markets North American brands to all these sales channels. We are able to maximize selling price/margins of the North American brand by selling into the most profitable sales channels.
Selling direct to large international retail chain accounts such as Costco and Walmart/Sam's Club, brands are able to control their margins through determining selling price and marketing spend.
Cross-border e-commerce sites such as Amazon Global, T-Mall, Coupang (Korea) and Rakuten (Japan) are similarly profitable given pricing is determined by the exporter with no middleman. Importers and distributors seek margins of 15%-25% for providing critical services of customs clearance, warehousing, logistics and sales, although your brand's shelf price may be higher as a result.
If you are seeking to access profitable foreign distribution sales channels, contact us for more information.