Back to AMI Blog
Growing global brands: how will the Russia-Ukraine conflict affect North American food & beverage exports?
This is a great question that has been on the minds of many North American CEO's in the F&B Export world.
The current conflict in Ukraine will have both short-term and long-term implications for North American food, beverage and nutrition products exporters. Short term the global economy (and hence, current and prospective export customers) will face decreasing growth, increasing inflation, eroding income values, and disrupted supply chains. More importantly, business owners will experience decreasing confidence and increasing anxiety and uncertainty. However, this will occur primarily in regions that rely most heavily on Russia and Ukraine, namely Central Asia, Africa and the Middle East. Russia, Ukraine, Eastern Europe and countries which rely on Russian tourism will face economic recession and will be unattractive markets.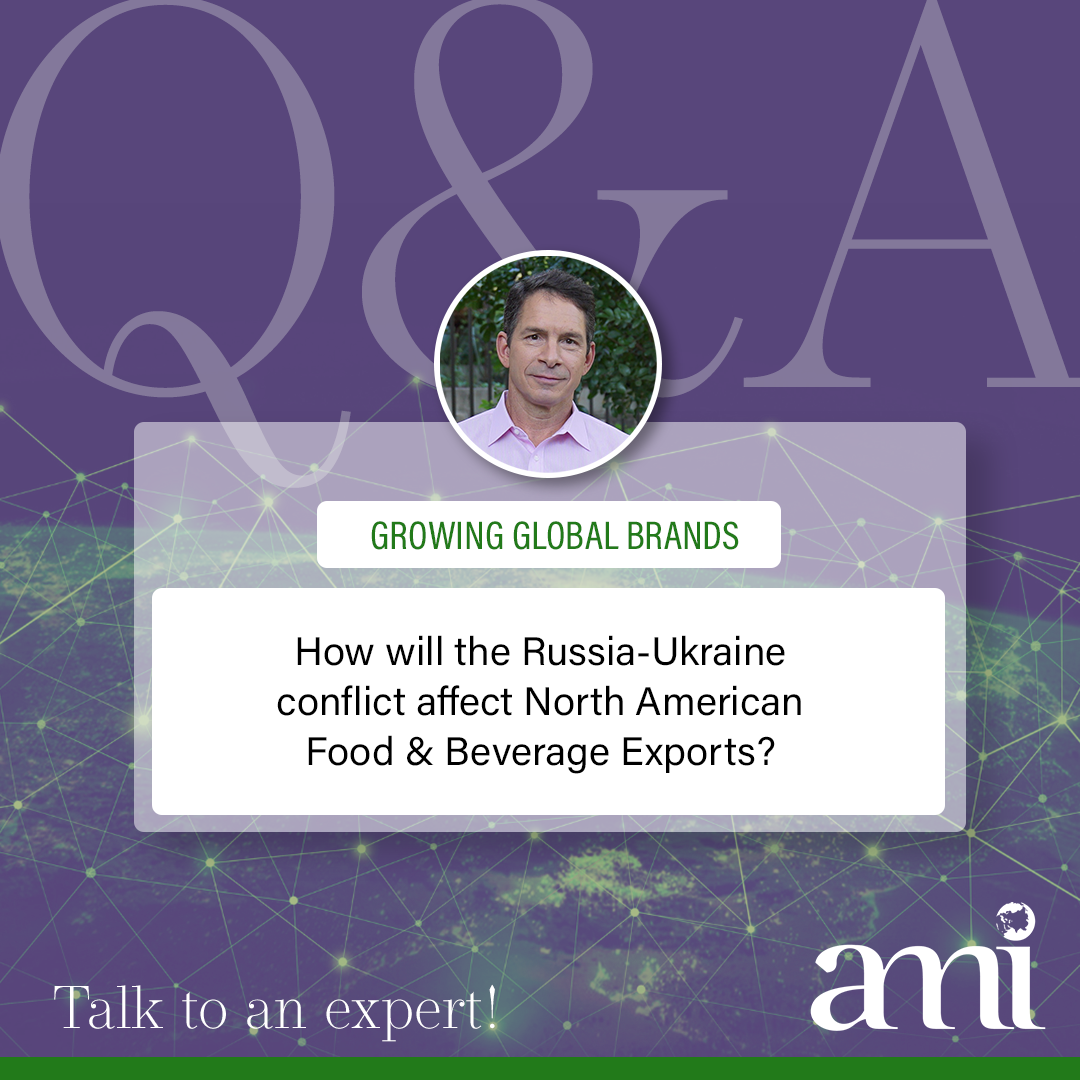 North America and the rest of the world will mainly incur higher food and energy inputs, as well as more challenging and costly supply chains and varying trade routes. Most established export customers will continue purchasing and enjoy accelerating growth. Once the world has become accustomed to higher food prices and inflation, global trade growth will continue its normal trajectory. The IMF recently reduced its 2022 global economic growth forecast from 4.9% to 4.4%, citing slowing growth in China and the U.S. as the main reasons. Little mention was made of the conflict in Ukraine.
Like previous global disruptions, the Russia-Ukraine conflict will be resolved and overcome. It will no doubt have lasting implications for many people who have suffered greatly as well as countries deeply impacted by the economic fall-out. North American exporters would do well to maintain their long-term strategic vision of entering new opportunistic export markets and enhancing their global brand equity.
As events around the globe unfold, it's important to have an experienced strategic partner that can support your company. We're here to help!