Back to AMI Blog
Growing Global Brands: How will the Russia-Ukraine conflict affect US exports to Europe?
European businesses have always been more risk-averse than their North American counterparts. Russia's conflict with Ukraine, preceded by a global pandemic, has exacerbated Europe's caution.
Most European retailer buyers are still not taking in-person meetings with brands. They are reluctant to take on new products given the current geopolitical volatility. Nonetheless, we see this situation as temporary, and like with COVID, European retailers will adapt to "the new normal" and begin listing new innovative products from North America that their consumers are demanding.
The war in Ukraine has disrupted the global food production system. Russia and Ukraine are the breadbasket for much of the world, supplying about 30% of global exports of wheat and barley, 65% of sunflower seed oil, and 15% of corn.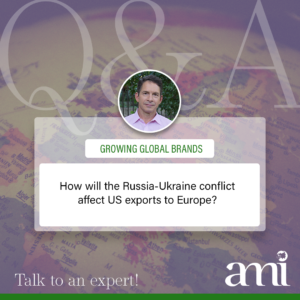 The war has sent prices soaring for these and other essential foods. The invasion of Ukraine has already raised the cost of living, as a spike in natural gas and oil prices have pushed heating bills higher. Similarly, the cost of transportation is growing and as fuel becomes more expensive,
European businesses, including large retail chain stores, are examining their sourcing capabilities.
"Dual sourcing" has increased from 55% to 80% of businesses since the war began. Not only in Europe but worldwide more businesses are "friend shoring" (which is, in the words of Janet Yellen, a commitment to work with countries that have a "strong adherence to a set of norms and values about how to operate in the global economy). The war is accelerating a trend: in 2021, Canada and Mexico eclipsed China to become the largest trading partners of the United States.
We continue to see more North American brands eager to sell their products in Europe and other high-growth foreign markets. International trade shows are packed with U.S. and Canadian companies, and buyers are flocking to shows after two years of cancellations. We are optimistic for the future of North American exports, and believe the Russia-Ukraine conflict may result in an overall increased demand for these high-quality, nutritious food and beverage products.