When expanding a brand into new markets, brand awareness can be one of the biggest hurdles to get over. You can work with the best distributors and get your products into all the right channels, but you will still need to ensure that consumers choose your products.
Brand awareness is critical to inspire customers to give your product that first try or two before they become advocates based on its merits. It also helps to build credibility with your vendors when there is a demand for your product that brings them new customers.
Social media is a particularly beneficial tool to build consumer relationships in new regions. You can target specific areas with ads related to your products, offer contests and promotions, participate in conversations and demonstrate the value of your product and brand.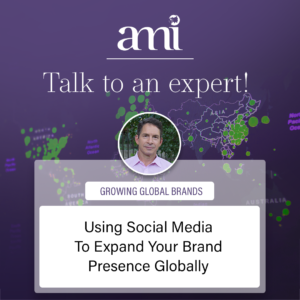 Another key social media tool for growing brand presence is working with influencers in the region you are entering. They already have a solid following within specific demographics and a reputation for sharing what their audience will love. Working with the right influencers in a particular area can be a game changer for a new product launch.
Not only will people remember they heard about a product from their favourite influencer, they will often seek it out to be one of the first to try something new!
When building a social presence in a new international market, consider time zones, language, cultural context and values, and local nuance. You never want the new audience to feel they are an afterthought so be sure to adapt your posts and ads regionally. And as your presence grows, you may consider creating regional accounts to better facilitate these differences.
When you work with AMI, we will support the development of a full scale strategic sales and marketing plan for each market you are entering around the globe. Let's connect to dive deeper into the unique needs of your business!