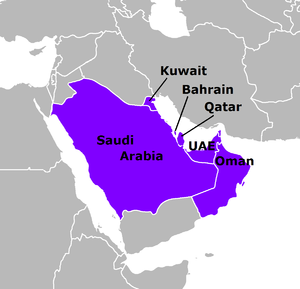 For US food and beverage manufacturers intent on exporting their products, identifying markets that are a good fit for their products can be a challenge. With the U.S. domestic economy just starting to come out of recession and many international markets still sluggish, the countries of the Gulf Cooperation Council (GCC) might provide the right combination of unified legislation, untapped demand, and market sophistication.
The GCC is a union formed in 1981 by six member countries: Bahrain, Kuwait, Oman, Qatar, Saudi Arabia, and the United Arab Emirates (UAE), with the goal of standardizing regulations on the economy, finance, trade customs, tourism, legislation, and administration across all members.
In recent years, the Gulf Standards Organization (GSO), the body responsible for standardizing these regulations, has approved several proposals that have lead to more unified customs regulations, food labeling laws, and tariffs. The goal is to eventually have a customs union, unified food safety laws, and even a common currency. With all member countries speaking the same language, Arabic, the GCC is poised to become one of the most integrated markets in the world.
In addition to a commitment to greater market unification, the World Trade Organization estimates that the region imports nearly 90% of all food consumed. With the small amount of arable land in this region and a population that is expected to increase by one third to over 65 million come 2020, demand for imported food items will continue to grow for the foreseeable future.
Because of this well established history of importing food to meet local demand and the high population of expatriate workers in many of these countries, many GCC consumers already have a taste for US products and are looking for both familiar brands and the newest trends. This demographics is also in tandem with increasing modernization in transportation, retail outlets, food service, and food processing in the region. For products as diverse as breakfast cereal, snack foods, ice cream, dried and processed fruit and nuts, beverages, and chocolate, there are consumers seeking to purchase them and distributors that can make sure products arrive on shelf in optimum condition.
What does that mean for US companies looking for export opportunities?
It means that some of the fastest growing and heavily import dependant food markets in the world will soon have one set of steamlined import rules. With the right market knowledge and expertise, US food and beverage manufacturers can access these attractive markets and avoid unnecessary regulatory hurdles.