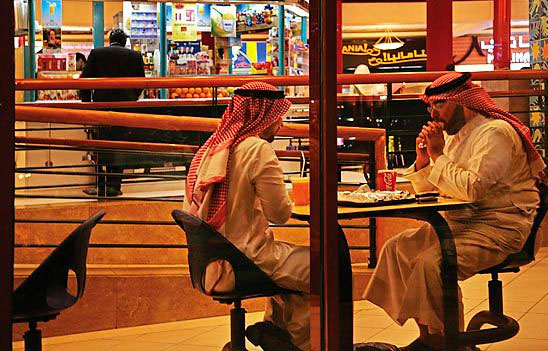 "Packaged food is slowly eating away at fresh food across the Middle East," said Lee Linthicum, head of global food research at Euromonitor. "People have been eating fresh and unprocessed food in the region for years; it's now that there's a shift from unprocessed to processed." For better or worse, Middle East consumers are eating less fresh vegetables and more packaged, processed food both inside their homes and outside at restaurants.
Sales of packaged and processed foods across the Middle East are forecasted to increase 11% this year to US$52 billion. Consumers in the region are becoming more affluent and time-conscious, seeking convenience foods. Due to these trends, multi-national food companies are making significant investments in the Middle East. Mars recently announced an investment of $60 million in a new Saudi Arabia facility, with an additional investment of $150 million over the next 10 years. Unilever expanded its factory operations in Dubai last year, and Coca-Cola recently invested $1 billion in the Saudi Arabian company, Aujan Industries.
Most of the GCC countries (Saudi Arabia, Bahrain, Oman, Qatar, Kuwait and the United Arab Emirates) enjoy per capita incomes over US$40,000, higher than the U.S.A. The largest GCC market, Saudi Arabia, has a population growth rate of 3.4% and is among the world's top ten fastest-growing countries. These markets do not have the ability to produce their own food supply, and therefore over 50% of foodstuffs are imported. In the last 5 years alone, U.S. food exports to the six GCC countries increased 293%, of which 60% were consumer packaged food products. This growth trend will continue this year, with U.S. food exports anticipated to increase 35%. The leading categories of U.S. food exports include nuts, beverage bases, snack foods, and processed fruits and vegetables. Since many countries in the Middle East and North Africa have a Free Trade Agreement with the United States (Including Israel, Jordan, Morocco, Bahrain, Oman, Egypt, and Tunisia), local distributors look to the U.S. as the primary source of supply for packaged food and beverages.
The foodservice and catering market is also a huge opportunity, as casual dining and fast food restaurant chains are growing robustly. Many popular American chains have recognized the feasibility of this market and have invested in global expansion. Out of the 50+ countries Starbucks has entered, nine are in the Middle East. McDonalds operates 313 restaurants in the GCC and employs over 7,300 people. KFC runs 450 restaurants in 74 cities across the Middle East while Dunkin Donuts has over 70 stores in the UAE alone. Pizza Hut has expanded to 12 countries in the region with 130 locations in Saudi Arabia and 55 in Egypt. Even newer American franchises like Krispy Kreme Donuts – which opened its first Middle Eastern branch in 2006 and now has over 80 stores in the Middle East – are opening rapidly to satisfy the region's cravings for prepared foods.
The demographics of Middle East consumers also favor imported food consumption. Between 25% – 30% of the Middle Eastern population are between 15-29 years old and have grown up eating processed foods and dining at Western-style fast-food restaurants and coffee shops1. Young people are more likely to spend their disposable income on imported food items such as snacks and beverages.
Due to the lack of affordable housing in urban areas and the delay of marriage, young Middle Easterners are remaining in their parent's homes for extended periods of time. It used to be common for Middle Eastern and North African women to marry before the age of 20, however, there is a clear trend of delayed marriage in the region.2 In the UAE, for instance, the percentage of married women between the ages of 15-19 has dropped from a whopping 57% in 1975 to 8% in 1995. In 1972, 40% of Libyan women between the ages of 15-19 were married, but by 1995 that number had reduced to 1%. Women are now more focused on building career paths and financial independence than previous generations. Shifting expectations of Arab women and their societal roles have paved the way for more personal expenditures for both young men and women alike. Without mortgages or rent to pay, and no children to raise, young Middle Easterners have more disposable income to devote to imported packaged food and dining out at restaurants and cafés than before.
The consumption of processed foods is, however, taking its toll on Middle East consumers. Obesity and diabetes are on the rise and are of great concern to governments in the region. Approximately 19-37% of the male population and 26-52% of the female population in the GCC is obese with the percentages varying between the countries.3 On average, 15% of the Middle Eastern and North African population suffers from diabetes. The demand for low-fat and low-calorie foods is increasing. Although natural foods are slow to gain sales momentum, it is only a matter of time before these products become essential to Middle Eastern diets.
When doing business in the Middle East, some of the issues to consider include:
Personal relations are very important – expect to make sales only after multiple visits in order to build trust with your customers.
Initial orders will be small until new-to-market products gain awareness
Distributors with an established retailer customer base are the best means of entering new markets.
Distributors expect marketing support from suppliers; listing fees and promotions are common and expensive.
While distributors are seeking constantly new products, they expect a degree of exclusivity.
Since real estate is expensive, typical distributor margins are 25% and retailer margins 15% or higher.
Arabic labeling and a Certificate of Health are required on all imported food items.
Halal certification, the ritual slaughter of animals in accordance with Sharia law, may be requested for animal-based food products or ingredients.
Is the Middle East imported food market a fly-by-night region which will dwindle away? Will consumers there return to eating only fresh, unprocessed foods? Given that oil prices rose nearly 40% in 2011 and have recently spiked to over $120/barrel for Brent Crude, that scenario is dubious. Yacoob Abba Omar, South Africa's ambassador to the United Arab Emirates, said "the market here will keep growing for a long while to come." U.S. food and beverage marketers would be prudent to review their go-to-market strategies for the dynamic Middle East markets.
Peter M. Guyer & Yara E. Moosa
Athena Marketing International (AMI)
Tel. +1 (206) 749-9255
---
1 Brookings Institute, "Taking Stock of the Youth Challenge in the Middle East: New Data and New Questions" June, 2010
2 Population Reference Bureau, Washington, D.C.
3 Al Munajjed, Dr. Mona. "Losing Weight: A Challenge for Women in GCC Countries."