Coffee companies, industry luminaries, and those related to the coffee category met in London this week at the Caffe Culture show. Over 300 exhibitors of coffee, beverages, snacks and foodstuffs for coffee shops, coffee equipment, and service providers to the coffee industry came together to demonstrate their wares. Not only was it the largest coffee event of the year, but it also hosted the World Barista Championship. Michael Phillips of the USA was crowned the planet's #1 barista (http://www.livestream.com/worldbaristachampionship2010).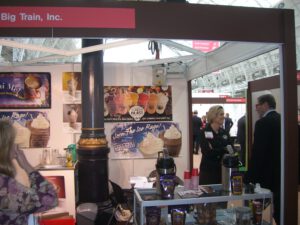 The show came at an interesting time, not only because the U.K. was abuzz with the Wimbledon tennis tournament down the road from the show, nor because the English soccer team advanced in the World Cup tournament, nor because of the 40th anniversary of the Glastonbury rock n' roll concert (the U.K.'s answer to Woodstock) or even the Hard Rock concert featuring Pearl Jam. Coffee futures hit a 12-year high on the New York and London exchanges. Delivery of Arabica coffee in September rose to US$1.765 per pound, punishing hedge funds and other traders who had speculated on declining or short positions. The reason for the rapid price increase is due to anticipated low coffee crops this year in Columbia and Central America. Expect to see increases in retail coffee prices at your local supermarket and neighborhood Starbucks!
The coffee industry is also under pressure due to the widely held belief that coffee consumption in high-consumption, developed markets has reached saturation. These markets include the USA, Germany, Japan, Italy, France, Spain and Sweden. In these markets, the correlation between a rise in income and/or a decrease in price does NOT now lead to an increase in consumption. In other words, coffee consumption is flat in the developed markets.
Coffee companies seeking growth have to expand to non-traditional, low consumption markets with high growth rates. These markets include Russia, South Korea, Australia, the Middle East, Argentina, Turkey, Israel and Taiwan. In these markets, as income rises the consumption of coffee also increases. For example, outside the major coffee consuming countries, Russia has the highest volume consumption. Given the demographics in these markets – rising disposable income, higher birth rates, low per capita coffee consumption, and an embrace of the specialty coffee industry – the prospects for growth are excellent.