Despite a slowdown in Europe, food and beverage buyers are enthusiastically seeking innovative products. U.S. brands with unique points of differentiation are entering new markets successfully with eager European retailers and distribution partners. Many of these European buyers are attending SIAL Paris this week where they hope to meet with suppliers who can provide these new and on-trend options. SIAL Paris is one of the world's largest food and beverage trade shows, attracting nearly 6000 exhibitors from over 100 countries.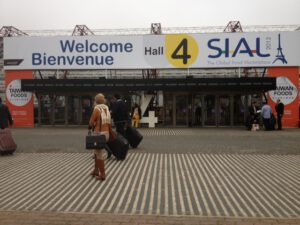 AMI client Big Train, Inc., the leading U.S. producer of powdered beverage bases, is currently showcasing its innovative beverage solutions to attendees from over 200 countries. As the global coffee culture continues to evolve and diversify into specialty beverages, Big Train has recognized that developing and maintaining an international presence is increasingly important to grow the brand and increase market share.
Exhibiting at international trade shows can be an effective way to introduce a brand to new markets and potential customers. At SIAL Paris alone, it is estimated that over 140,000 visitors will have passed through the halls of the Paris Nord Villepinte exhibition center by the end of the show tomorrow. As this is a trade-only show, this just solidifies the fact that international buyers are searching for new products and ideas at venues such as SIAL Paris. It was reported that over 70% of visitors discovered new products at the 2010 show.
Note: SIAL Paris (www.sialparis.com) alternates exhibition years with ANUGA(www.anuga.com) in Cologne, Germany.